Get Notified When A Document Is Changed Or Uploaded To SharePoint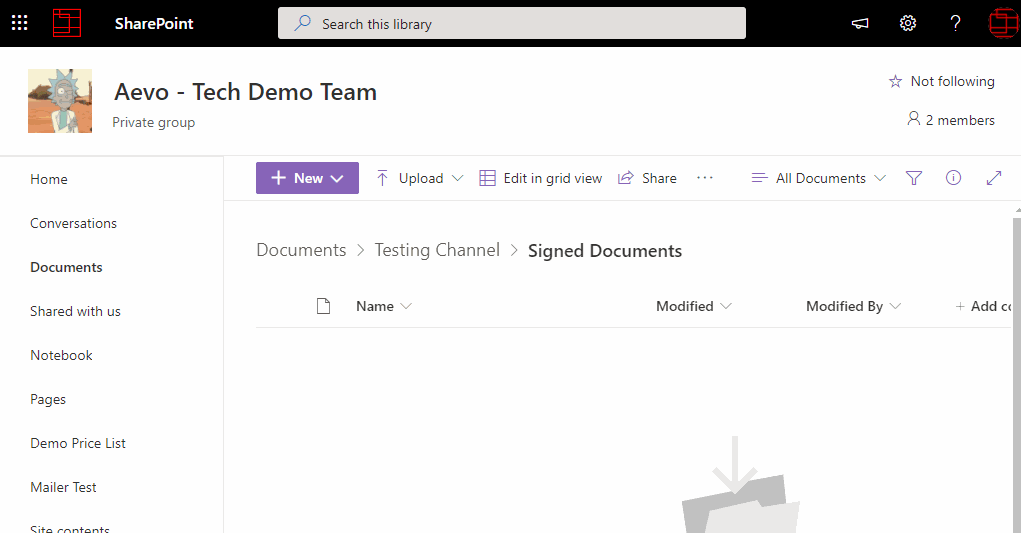 For this post we are going to assume your Business has already incorporated the basics of Microsoft 365 into your infrastructure. That means you have Office 365, you are using OneDrive, you are using SharePoint, and Teams is part of your day to day workflow.
(If you are still saving most of your data to a server somewhere, you really need to read this post.)
One useful feature available to you is the ability to configure alerts in SharePoint. With this feature enabled, you can receive an email or text message whenever there is a change to a particular folder. This feature is included with your subscription, the system is just waiting for you to enable it!
Enabling alerts in SharePoint is easy


First, navigate to the folder you want to setup an alert for:
If you are using Teams, you are using SharePoint.
You can open your "Files" tab and click "Open in SharePoint"
In SharePoint, select the "..." menu and click "Alert Me":
From here, configure the alert:
Via the configuration menu you'll be able to...
Give a title for your alert

Setup who will receive alerts

Configure if the notification will be via email or text

Define what triggers an alert (e.g. if a new file is added or deleted)

Define how frequently an alert is sent (e.g. Every time it is triggered vs daily or weekly)
You also can manage your existing alerts
Just below the option to enable alerts, is the option to manage existing alerts:
From here, you are able to edit or delete your alerts:
Click the alert name to edit it
Pretty cool, right?


Alerts like this can trigger new kinds of workflow in your business that can help you and your Staff become more productive. As you explore this feature, make sure you take it slow! Automation, even a simple email notification, can create workflow disruptions if they haven't been properly implemented.
The alert feature in SharePoint can be used to to replace some of the steps in your existing processes.
Some examples:
Get notified when a signed agreement is added to a folder

Configure notifications for when a file moves from one step (folder) to another

Setup a notification for when something you have edited has been edited by someone else

Create a customer folder for your customers and get a notification when they upload new documents

Configure notifications to email your Ticketing / CRM systems to automatically trigger those systems to create tickets and reminders
SharePoint Alerts are just the beginning of exploring automation options available to you as a Microsoft 365 enabled business. To learn more about using SharePoint Alerts, click here.
Interested in having a conversation about technology in your business?
Send in a contact request at www.aevotec.com or email info@aevotec.com.